The Ultimate Wedding Calendar: How To Plan For Your Big Day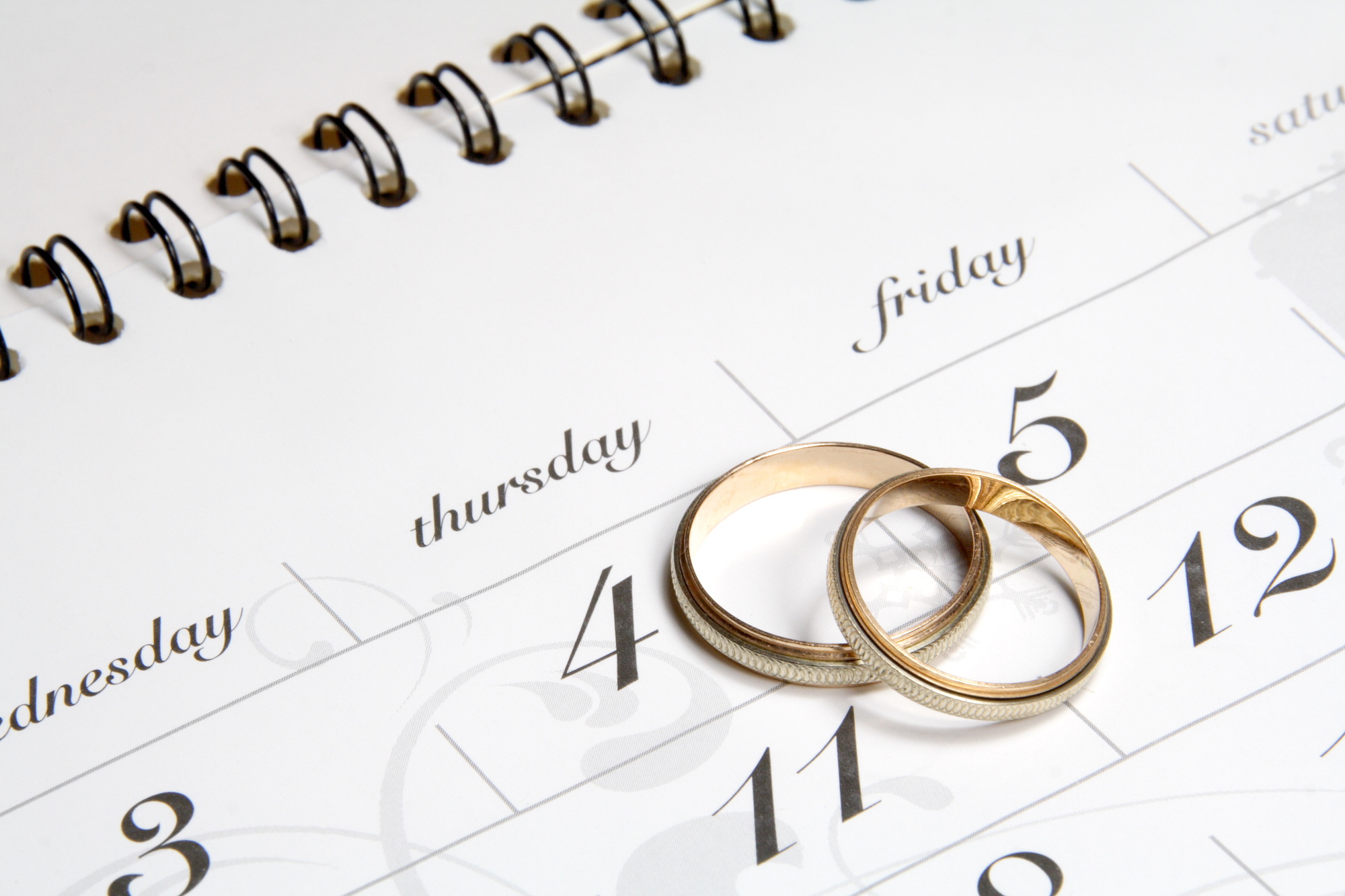 Planning for a wedding is a long process that requires months of preparation including invitations, bookings, fittings, and much more. Here is your ultimate wedding calendar guide so you know how to be ready for your big day.
Have you finished your wedding calendar yet?
When you're in the throes of planning a wedding, it's easy to get overwhelmed. A calendar can help. When you have a wedding plan calendar to follow, you'll always know your plans are on track. This takes away your stress, so you can focus on your excitement about the big day instead.
In this guide to wedding timelines, we'll go over everything you need to know about creating a wedding calendar that works for you. Keep reading to learn how to be your own best wedding planner!
12 MONTHS BEFORE
When your wedding is a year out, you already have a lot to do. Get these tasks out of the way now so they won't stress you out later on! Keep in mind that the earlier you begin to plan, the more time you will have to compare services and choose those best suited to your budget.
Let your family and friends be the first to know about your engagement. They will appreciate hearing it privately first. Be prepared for some unexpected questions that might come across intrusive. Remember that your family and friends care about you and may just be curious. Have tactful replies and use humor to avoid tense situations.
Decide When, Where, and The Style of Your Wedding
Your wedding style and your budget will directly influence the date and time of your wedding. Before you start planning your wedding, you'll need to make key initial decisions. Think about: large guest list vs. intimate party, evening vs. daytime, weekend vs. weekday, winter vs. spring/fall, etc.
You need a place to get hitched, and venues can get booked as much as a year in advance, especially on fall and spring weekends. This also ensures that you set a solid date early so you can move forward with your plans. Try to secure a date as early as possible. As well as, schedule your rehearsal as soon as you book the venue where the ceremony will take place.
Use a Google or Excel spreadsheet to keep your guest list organized. A Google spreadsheet lets your family member view and update the list, which can be useful. There are also great websites available to assist you with your guest count and seating assignment. Check it out: AllSeated and Aisle Planner
You don't have to have one, but this option can be a fun way to start the celebrations.
Register early so that people know what gifts you'd like for your big day, or for your shower or engagement party. You can also edit your registry throughout the year, so don't stress about getting the perfect list right away - just get it started.
Define a budget before you begin making wedding plans. Talk with your fiancé(ée) and all parents about your wedding vision (size, date, style, etc). Your parents might want to keep the traditions or have a more modern divvy up of expenses. Discuss privately "Who Pays for What" to avoid tension between families.
Decide Whether to Hire a Wedding Planner
A wedding planner offers many different types of services. You can hire a wedding planner for a consultation, month of coordination services, partial planning service and full planning service. If a full-service wedding planning is what you have in mind, do it at the beginning of planning. You'll want her/him on board to help with the research. Not sure if you need a wedding planner? Read 7 Reasons You Might Want to Hire a Wedding Planner.
The date still feels far away, but stay focused and keep knocking these wedding calendar items out of the park.
They get booked fast too, so make sure to book your officiant no more than 10 months out. If you want a friend or family to officiate your wedding, find out the next steps and get him or her ordained as soon as possible.
This task can be hard, so start early. This also gives your bridal party plenty of time to plan ahead. They'll appreciate having plenty of notice!
Make sure you find a great wedding photographer that meets your style and personality. That's the perfect opportunity to get engagement photos taken. Engagement photos are another optional but fun way to celebrate. These photos also look nice in your save-the-date, announcement or guest book.
8 MONTHS BEFORE
You've got a lot done already! Here's what to focus on as the date creeps closer.
Book Your Floral Designer
By this time, you'll have already selected your venue, floral budget, color palette, wedding style and size. A solid vision of your ceremony and reception will assist your floral designer to create the type of wedding flowers you envision. Bring your ideas and your mood board to your floral appointment. Not sure what flowers to select? We've compiled a list of the top sixteen most popular wedding flowers to help make your day unforgettable "Top 16 Most Popular Wedding Flowers."
A wedding dress can take a number of months to be ready, especially if you plan to have any customization done. Get this done early so you won't be worried about having it in time.
Book your caterer, baker, videographer, band or DJ, etc
It's also a good idea to go ahead and book your caterer, baker, videographer at this point. Also book the perfect band or DJ. This is a fun part of the process, so enjoy it! Do you need lighting or furniture rentals? Book that now as well. You'll want a signed and countersigned contract for each vendor.
6 MONTHS BEFORE
The day is now in sight. Follow that glowing light at the end of the tunnel - you'll be there before you know it.
How Many to order? That's the time to review your guest list and count the number of guests invited. You will need to order an invitation and all the enclosures for each individual or household on the list. Request to see a proof of your invitations before you place your order.
It's time to get all your guests on board. If it's a destination wedding, you should send these out earlier - otherwise, 6 months out is fine.
If you have a lot of people coming from out of town, or you're having a destination wedding, now is the time to reserve a block of hotel rooms. You can usually get a discount for ordering a number of rooms at once.
Go ahead and book the trip now so you'll get a good deal. Apply for passports and visa if you are traveling abroad. Some vaccines may also be required for travel. Visit the CDC Destinations Travelers Health for more information.
Get these ordered now to leave time for alterations. Just as with the wedding dress, making the necessary adjustments can take months. Ordering them early takes the stress away from you and your wedding party.
Order early so you have time for sizing and customization, if you want it. Extras like engraving will take longer.
4 MONTHS BEFORE
You don't have to have your plans set in stone, but this is a good time to start thinking about who is going to do your makeup and hair. If you're doing it yourself, experiment with some styles to find out what's going to last all night and look great.
This takes a little less time than the bridesmaid dresses, but should still get done early. Alterations may still be needed to make sure everything fits well.
This is traditionally hosted by the groom's family, and happens the night before the wedding. You'll want to have it planned out early since it's so close to the big day.
2 MONTHS BEFORE
Send the formal invitations when the wedding's about 8 weeks away. Take one complete invitation to the post office to be weighed. Buy stamps accordingly.
Don't forget this step so everything's legally sorted out! This process usually only takes up to a week at most, so it's easy to leave this small but important task to the last minute. Try to get it out of the way while the wedding's still a few weeks away.
1 MONTH BEFORE
Your wedding calendar countdown is drawing to a close - here's how to finish it out with style.
Give the final guest count to your caterer
10% is a reliable estimate for regrets. If it's a destination wedding, you can estimate that about 20% of your guests will send their regrets. Updating you caterer 1 month before the wedding is as close as you can get to a reliable final guest count.
Create the Wedding Weekend Timeline
Create a Wedding Weekend Timeline that includes tasks that are due at last 2 days before the wedding. Assign responsibilities to your attendants and family, if needed. As you can expect, the last week before the wedding comes with countless details. Bring a copy of the Wedding Day Timeline to discuss with your vendors during your final walk-through. If you have a wedding planner, the Wedding Weekend Timeline is one of the many tasks that your wedding planner will be responsible to create and communicate to your vendors.
Schedule your Vendor Walk-Through
The Vendor Walk-Through usually takes place at the venue. It's a great opportunity for the vendors to become acquainted with the venue and the team. As well as, it brings everyone up to speed on every detail and/or any final changes.
Need Wedding Calendar Help?
As you can see, a great wedding calendar tackles big tasks early, so things get easier rather than harder as time goes by. Soon, all you'll have left to plan is the bachelorette party and your wedding accessories. Still, if you're busy or overwhelmed, sticking to a wedding calendar can seem impossible. Not sure if you can do it on your own? Don't worry - we can help. Here at Pollyanna Richter Weddings, you can request a call to speak with one of our professional planners and designers or contact us directly.
Share this post: