Atlanta Board Of Directors
We are excited to welcome our WIPA Atlanta Chapter Board of Directors. These Directors are esteemed professionals whose passion for our industry is evident in the work they produce. Their presence in Atlanta will allow the growth of WIPA so we can continue to bring new standards, education and sense of community to all wedding professionals.
PRESIDENT
2023
Jordan Xu
Emily Jordan Events
VICE PRESIDENT
2023
Matt Mitchell
Mitchell Event Planning
TREASURER
2023
Bruce Yeager
Meaningful Frames
SECRETARY
2023
Pollyanna Richter
Pollyanna Richter Weddings
IMMEDIATE PAST PRESIDENT
2023
Kathy Heilman
Whitlock Inn
DIRECTOR OF MEMBERSHIP
2023-2024
Julie Coffin
Unique Floral Expressions
DIRECTOR OF MEMBERSHIP RETENTION
2023-2024
Shelly Danz
Atlanta Party Connection
DIRECTOR OF DIVERSITY, EQUITY & INCLUSION
2023-2024
Kirsten Palladino
Equally Wed | Equally Wed Pro
DIRECTOR OF EDUCATION
2023-2024
Irene Tyndale
Irene Tyndale Events
DIRECTOR OF PROGRAMS
2023-2024
Gloria Schulz
Gloria Schulz Events
DIRECTOR OF MARKETING & COMMUNICATION
2022-2024
Dilreet Kaur
Ardour Events
DIRECTOR OF SPONSORSHIP
2023-2024
Sydney Woods
Laura Burchfield Events
Upcoming Atlanta Events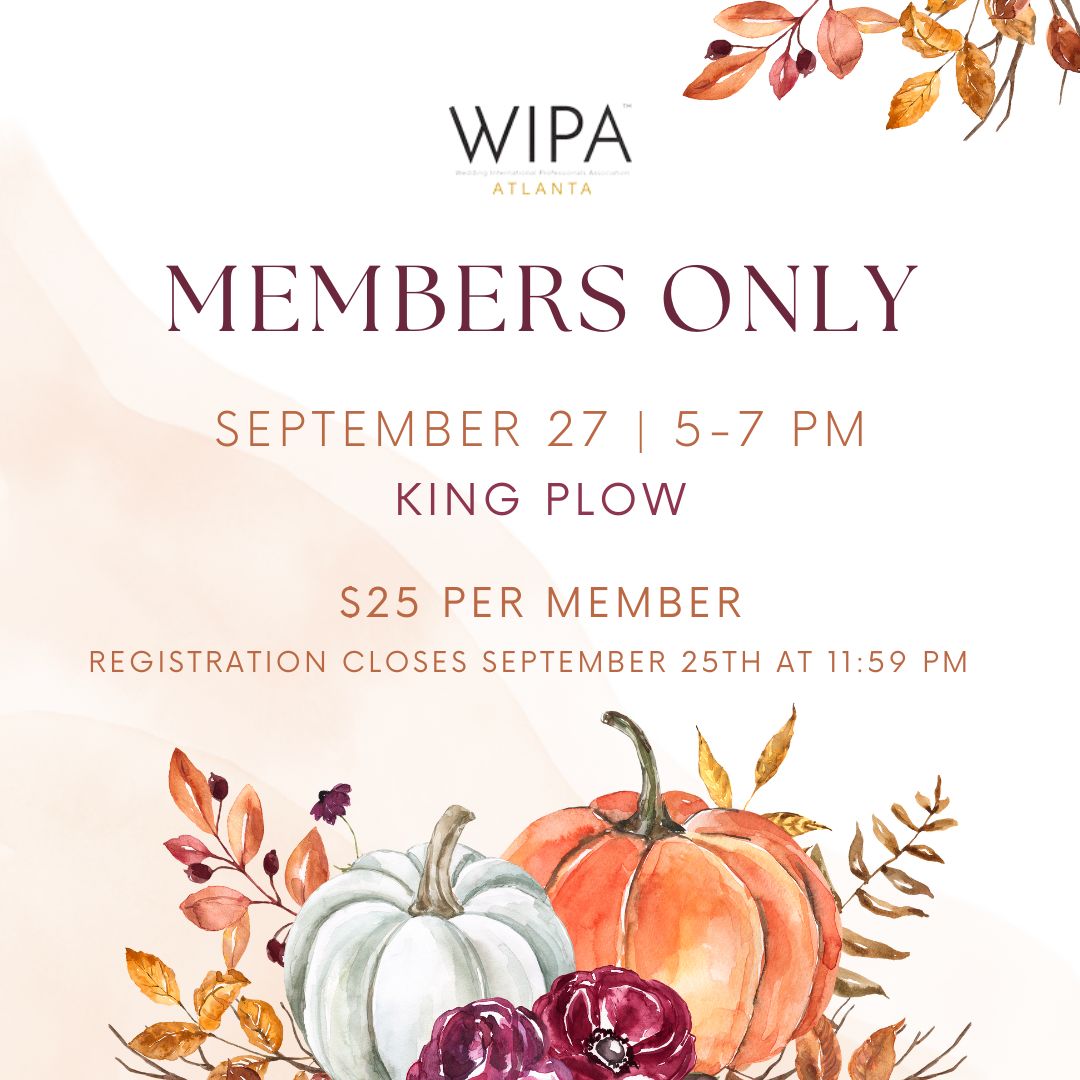 Please join your fellow WIPA Atlanta members for our Cranberries & Crisps Members Only event! We will gather at King Plow for some delicious bites and drinks while we mix and mingle and get in quality networking time with one another.
Thank you to our generous sponsors:
Venue, Food & Beverage – BOLD Catering & Design
Entertainment – Protool Entertainment
Please note, registration will close at 11:59 pm on September 25th.
Connect On Social Media With WIPA Atlanta