Dallas Board Of Directors
We are excited to welcome our WIPA Dallas Chapter Board of Directors. These Directors are esteemed professionals whose passion for our industry is evident in the work they produce. Their presence in Dallas will allow the growth of WIPA so we can continue to bring new standards, education and sense of community to all wedding professionals.
PRESIDENT
2023
Jordan Fatheree
Hospitality Events Consulting
VICE PRESIDENT
2023
Tracy Autem
Tracy Autem & Lightly Photography
TREASURER
2023-2024
SECRETARY
2023
Paula Ewers
Truly Ewers Events
IMMEDIATE PAST PRESIDENT
Jacqueline Hill
Jacqueline Events & Design
DIRECTOR OF MEMBERSHIP
2023-2024
Matt Thelen
Matt Thelen Entertainment
DIRECTOR OF MEMBERSHIP RETENTION
2023-2024
Jennifer Trotter
Lip Service Makeup
DIRECTOR OF DIVERSITY, EQUITY & INCLUSION
2023-2024
Reytheda Jackson
Stohr-ee Events
DIRECTOR OF EDUCATION
2023
Kayley Bacon
D'Vine Grace Vineyard
DIRECTOR OF PROGRAMS
2023-2024
Katie Pagel
As You Wish Events
DIRECTOR OF MARKETING & COMMUNICATION
2023-2024
Sara Greiner
Allday Events
DIRECTOR OF COMMUNITY SERVICE
2023-2024
Crystal Frasier
Crystal Frasier Weddings
DIRECTOR OF SPONSORSHIP
2023
Brandon Winters
Jordan Kahn Music Company
DIRECTOR AT LARGE: PROGRAMS
2023
Emily Harms
Hall Arts Hotel
DIRECTOR AT LARGE: PROGRAMS
2023
Abby Rodriguez
Warwick Melrose Hotel Dallas
Upcoming Dallas Events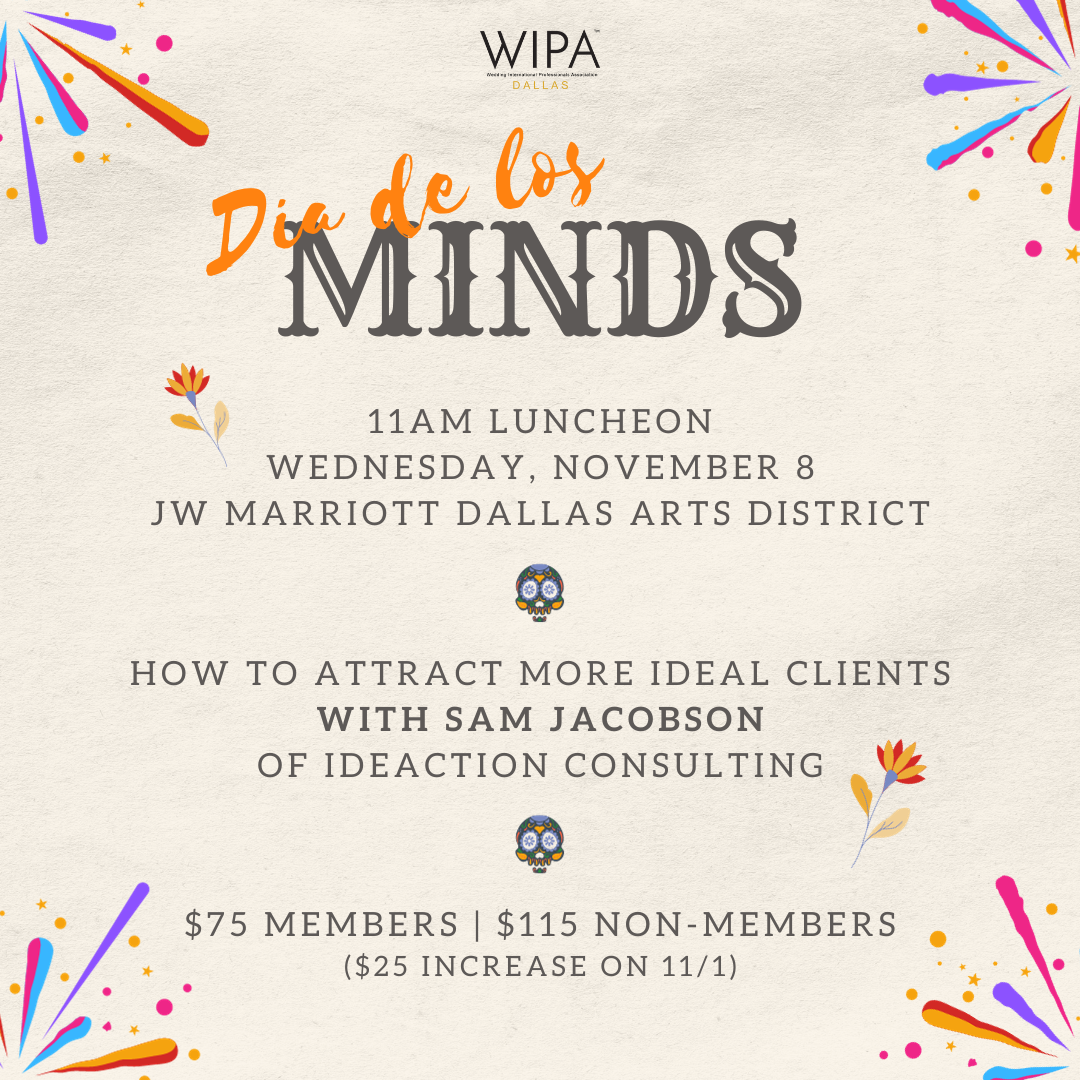 Come celebrate Dia de los Minds with us on November 8, 2023 and check out the new JW Marriott Dallas Arts District.
Enjoy lunch and refresh your sales skills just in time for engagement season. Sam Jacobson of Ideaction Consulting will be giving a crash course on how to identify and attract your ideal client.
THINGS TO KNOW
Attire: Dress colorfully or in all black.
Donations: We will be collecting warm-weather clothing for Mission Oak Cliff. Please bring new or gently used items.
Parking: Complimentary valet parking provided
Registration closes November 6, 2023
PARTNERS
Planning & Design by Crystal Frasier Weddings & Events
JW Marriott Arts District Dallas
David Kimmel Design
Anjelica Marie Photography
Candlelight Films
Harmland Weddings
Center Stage Floors
Nuage Designs
Party! Dallas
Acrylic Sticks
The Essential Market
Encore
Vincenzo Martinelli
Top Tier Event Rentals
Follow us on Instagram at @wipadallas for additional information
and updates regarding the event.