Nebraska Board Of Directors
We are excited to welcome our WIPA Nebraska Chapter Board of Directors. These Directors are esteemed professionals whose passion for our industry is evident in the work they produce. Their presence in Nebraska will allow the growth of WIPA so we can continue to bring new standards, education and sense of community to all wedding professionals.
PRESIDENT
2023
Kate Rudloff
A Final Take Films
VICE PRESIDENT
2023
Kelly LaFleur
K.LaFleur Films
TREASURER
2023
Britney McLaughlin
A View Venues
SECRETARY
2023
Tracey Fricke
Occasion Designed
DIRECTOR OF MEMBERSHIP
TBD
Mitch Miller
Foto Fun Spot
DIRECTOR OF MEMBERSHIP RETENTION
2023
Joe Cruz
Joe Cruz DJ Service
DIRECTOR OF DIVERSITY, EQUITY & INCLUSION
2023
Karen Vice
Fancy Plants Flowers
DIRECTOR OF EDUCATION
2023-2024
Sarah McMahon
S. Lukas & Company
DIRECTOR OF PROGRAMS
2023
Gabi Hughes
Lolly and Co.
DIRECTOR OF MARKETING & COMMUNICATION
2023
Emily Vankat
Emily Jessen Photo Co.
DIRECTOR OF SPONSORSHIP
Carol Lynne Daganaar
I Tie The Knots Weddings
Upcoming Nebraska Events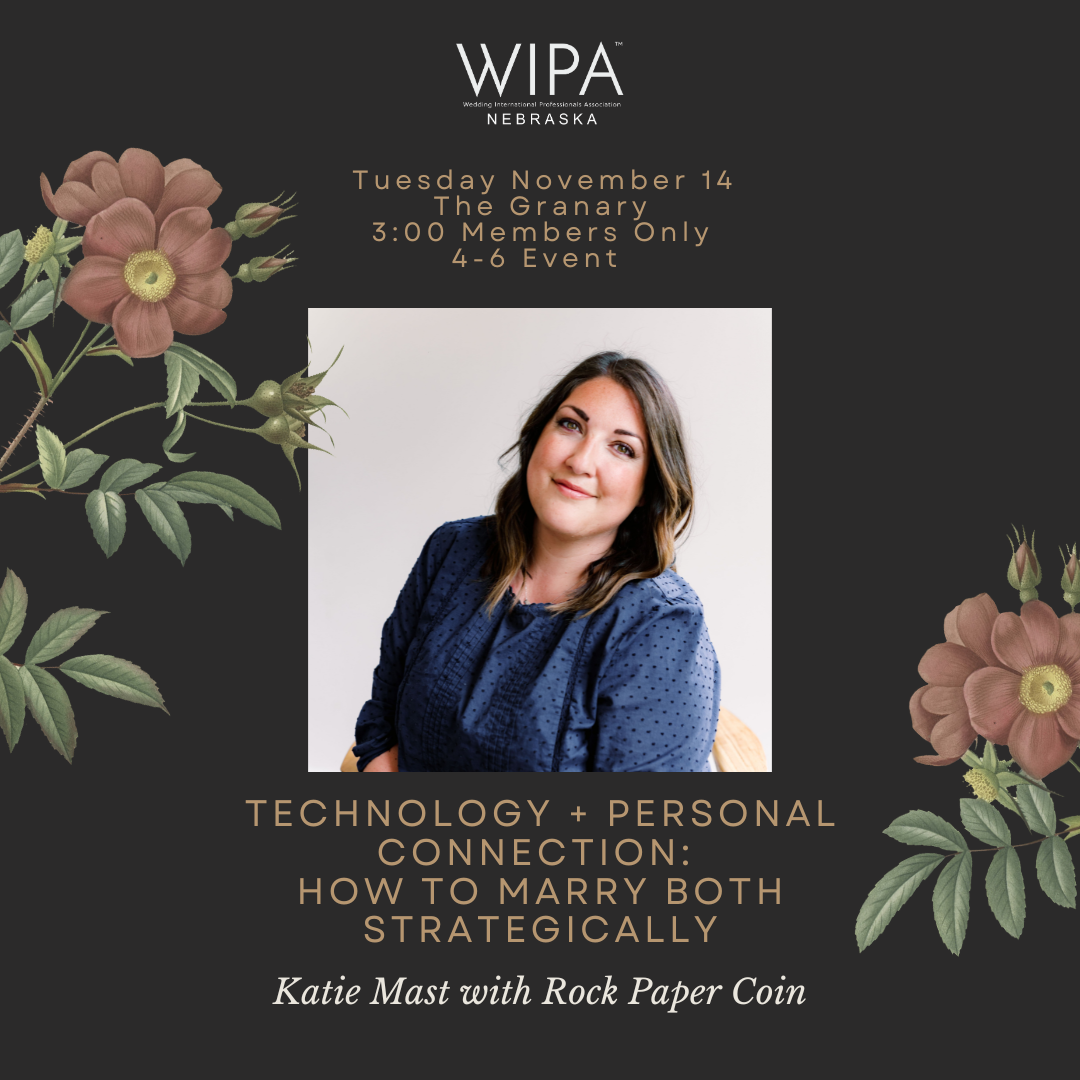 End the year with us at our last event for 2024! Katie Mast from Rock Paper Coin will be presenting 'Technology + Personal Connection: How to Marry Both Strategically'.
Registration closes November 7
We will have a members only portion from 3:00-4:15. After we will have time to mingle and network with the rest of the attendees while enjoying light apps and drinks provided by Abraham Catering. Then transition into Katie's presentation, ending with a Q+A portion.
Pricing: Members $50 • Non Members $80
No guests allowed, each attendee must complete registration.
If you are interested in sponsoring this event we would love to hear from you!
WIPA Nebraska is committed to curating events that are diverse, equitable, and inclusive. We actively work to create an atmosphere that is safe for all speakers, guests, sponsors, and members, and to protect underrepresented and marginalized voices.
Connect On Social Media With WIPA Nebraska