Utah Board Of Directors
We are excited present the WIPA Utah Chapter Board of Directors. These Directors are esteemed professionals whose passion for our industry is evident in the work they produce. Their presence in Utah will allow the growth of WIPA so we can continue to bring new standards, education and sense of community to all wedding professionals.
PRESIDENT
2022-2023
Cooper Brown
One Above Entertainment
VICE PRESIDENT
2022-2023
Michael Tobian
Utah Live Bands
TREASURER
2022-2023
Kaitlin Findlay
Barline Media
SECRETARY
2022-2023
Jenner Lehr
Ann Elizabeth Print Studio
IMMEDIATE PAST PRESIDENT
Chris Lavoie
Silver Summit Event Design
DIRECTOR OF MEMBERSHIP
2022-2023
Reese Stockman
BBR Beauty By Reese
DIRECTOR OF MEMBERSHIP RETENTION
2022-2023
Russ Powell
Powell Weddings & Events
DIRECTOR OF DIVERSITY, EQUITY & INCLUSION
2022-2023
Mark Miller
Copa Bar Service
DIRECTOR OF EDUCATION
2023-2024
Miranda Thompson
SnapHappy Photo Booth
DIRECTOR OF PROGRAMS
2022-2024
Sarah Bieganousky
Montage Deer Valley
DIRECTOR OF MARKETING & COMMUNICATION
2022-2023
Sarah Baltz
Sparkle Photography
DIRECTOR OF COMMUNITY SERVICE
2022-2023
Mikey Smith
Clementine Photo Booth
DIRECTOR SPONSORSHIP
2022-2023
Tonya Hoopes
Hoopes Events
DIRECTOR AT LARGE: PROGRAMS
2022-2024
Kaushay Ford
Kaushay & Co. Events
DIRECTOR AT LARGE: MEMBERSHIP
2022-2023
Jenya Norman
Norman Weddings & Events
Upcoming Utah Events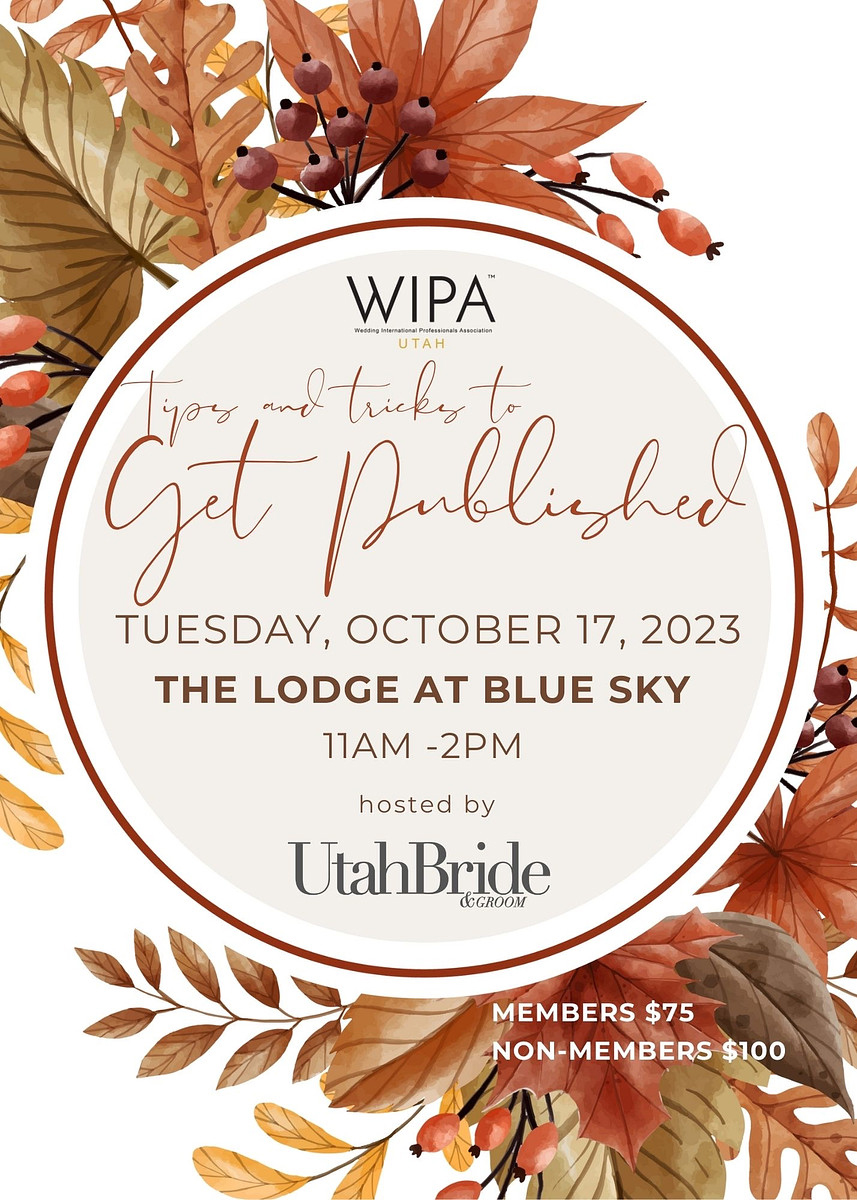 Join us for a fall afternoon with Utah Bride & Groom on learning tips & tricks to getting published.
Registration will close on September 30
11:00am-11:45am: Members Only Cocktail Hour
11:45am: Registration Opens for all Guests
12:00pm-2:00pm: Lunch & Presentations
Members: $75
Non-Members: $100
If you have questions about this event,
please click here to email the chapter directly.
Save The Date – Future Events
Gala
Thursday, November 2
Siempre